Nieuws
New Publication
Dr. Natalia Petrovskaia's article, 'Translation and Transmission of Texts in Medieval Europe: Two Aspects of Translatio' has been published in Literature, Science & Religion. Textual Transmission and Translation in Medieval and Early Modern Europe.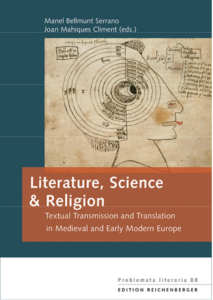 Manel Bellmunt Serrano, Joan Mahiques Climent (eds.) (Problemata Literaria 88) Edition Reichenberger, 2020; xxiv, 468 pp. ISBN: 978-3-967280-03-6.
For more information, see the publisher's website (the website can be accessed by clicking on the book cover image).